Storied K-12 School in Seattle Lands Equity-Minded Operational Leader from Chicago
The Bush School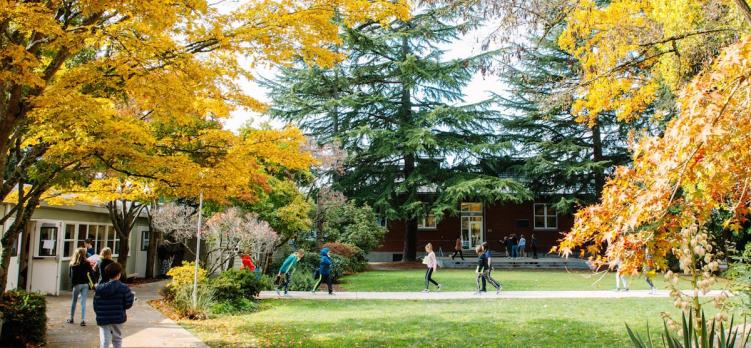 In the historic Washington Park neighborhood in east central Seattle sits the city's only independent K-12 school. Founded in 1924 and inspired by John Dewey's philosophy of progressive education, The Bush School began with modest roots in the home of Helen Taylor Bush to serve six young girls. During the past decades, the school has evolved in many exciting ways: substantially growing its student population; adding a boarding program which it eventually phased out in the late 60s; broadening its reach with a co-educational program; and most recently acquiring a spectacular second campus in the Methow Valley on the eastern slopes of the North Cascades, to further integrate wilderness, cultural, and academic experiential learning. Although much has changed since 1924, Bush's fundamental approach to teaching students remains as relevant now as ever. Bush students engage with challenging and robust academic programs and solve complex problems in the classroom and beyond through a variety of experiential opportunities on campus, in Seattle, and throughout the world. As a result of these experiences, students learn how to make an impact on their community that is meaningful and enduring.
Bush sought a chief financial and operating officer (CFOO) who would likewise have a meaningful and enduring impact on the school itself. In June 2022, the current finance and operations leader retired after a successful 22-year tenure at Bush. Because of her tireless service, the school is in excellent financial health, has maintained great relationships with neighbors during multiple construction periods, and has developed a proactive approach to budgeting and resource management. The next CFOO will encounter a dynamic board ready for a strategic thought partner, as well as a visionary head of school who is now in his eighth year and has helped to grow the school via its program, campus, and endowment. The next CFOO will oversee all financial operations and major campus construction, as well as several operational departments: HR, facilities, and dining services. Bush hopes its next CFOO can start this spring, to not only facilitate a graceful transition from the outgoing leader, but also set both the school and the next CFOO up for long-term success.
Bush is thrilled to welcome Rather Stanton to this post.

Meet the new leader

Rather Stanton
Rather joins the Bush community from Chicago, Illinois, where he co-founded Legal Preparatory Charter Academy, a free, open-enrollment public high school that uses a law themed curriculum and culture of high expectations to cultivate compassion, self-motivation, and reflection in young adults. Rather brings over a decade of experience in school finance and operational leadership in schools. His work has been grounded in equity and justice, focusing on ways to provide students unique experiences and access as critical components of a balanced education.  Born and raised in Memphis, Tennessee, Rather is a proud alumnus of two outstanding independent schools that instilled the civility, honesty, responsibility, and compassion that have guided his personal life and professional career. Rather received his B.A. in Economics and Political Science from Lake Forest College and his J.D. from University of Illinois (Chicago) School of Law. Prior to Legal Preparatory Charter Academy, Rather was a law clerk at Ronaldson & Kuchler, clerked for Hon. Brigid McGrath, and co-founded Griffith Tutoring, a non-profit organization preparing at-risk Chicago high school students for the ACT college entrance exam through business partnerships, training, and mentoring.
Search Dates
Nov 2021

to

Apr 2022
Job Position
Chief Financial and Operating Officer
Location
Seattle, WA