Progressive School Hires Librarian With Blended Digital-Analog Experience to Develop a New Learning Commons
The San Francisco School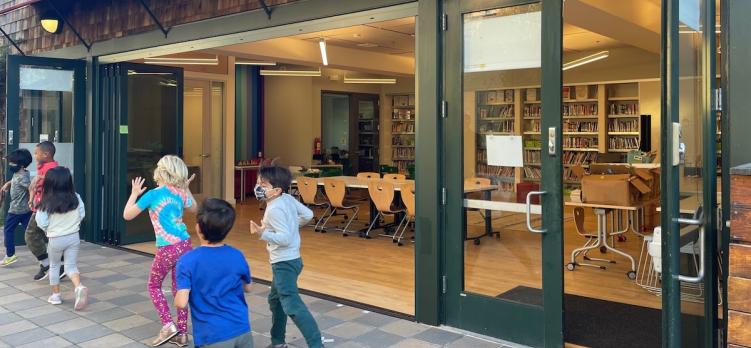 Founded in 1966, The San Francisco School is a Preschool through Eighth Grade independent, coeducational day school. The School is an established, vibrant, and inclusive educational community with a diverse enrollment of up to 285 students, an experienced and dedicated faculty and administrative staff, and supportive involved families. SFS students develop strong academic and social-emotional skills, self-reliance, creativity, and a sense of social justice. Our students graduate academically prepared, inquisitive, compassionate, and eager for the challenges ahead.
The Learning Commons is one of the newest spaces at SFS, having opened just this past fall. Aligned to the school's strategic plan aimed at interconnecting people, place, and program, the Learning Commons reflects the dedicated and passionate work of a team of educators to serve all learners, redesign the previous library space, and develop integrated programming. As such, the Learning Commons is a celebration of many learning modalities and literacies, from physical books to digital platforms. The Learning Commons was intentionally located at the center of campus to serve as a hub to ignite curious minds and as a gathering space to welcome all types of learners to explore and share their ideas.
SFS sought its inaugural dean of library services and learning commons, who would have the exciting opportunity to curate the Learning Commons experience — from the book collection to technology resources to a center for collaboration for students and adults alike. This is a ten-month faculty position that reports to the assistant head of school and has a distinct collaborative partnership with the director of design, engineering, and technology.
SFS is thrilled to welcome dean of library services and learning commons to this post.
Meet the new leader
Theo Dumothier
Theo is a librarian whose passions lie in library instruction, library programming, collection development, and blended digital-analog approaches to information literacy.  He has served as an archives assistant, tutor, bookseller, and cataloging intern.  He speaks three languages and is proficient in multiple programming languages and database environments.  He has a B.A. in Philosophy, with a minor in Greek Studies, from UC Berkeley, and a M.L.I.S. from Simmons University in Boston.
Search Dates
Dec 2021

to

Apr 2022
Job Position
Dean of Library Services and Learning Commons
Location
San Francisco, CA