Joyful, Community-Driven K-8 in Pasadena Lands Financial Leader
Mayfield Junior School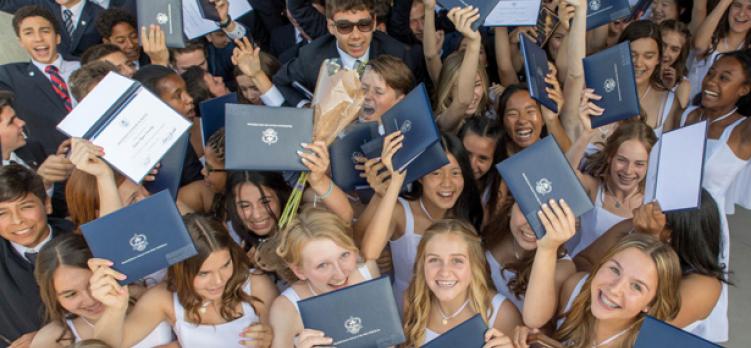 Mayfield Junior School is a remarkably joyful community. You would notice and feel this as soon as you stepped onto the grounds of this lively and beautiful five-acre campus in Pasadena, California. You would witness students who are happy and motivated, and teachers who love teaching. Students experience a thoughtfully designed, intellectually challenging, and creative program of study that develops a love of learning and academic excellence. Mayfield expects its students to reach for their potential and encourage them to lead at a school whose motto is "Actions Not Words." Collectively, members of the community not only embrace but live it every day at this school that was founded in 1931 by the Society of the Holy Child Jesus.
The previous director retired after a long and successful 23-year tenure. So many improvements and expansions occurred under her watch, but at the same time the next director's plate will be full of exciting, major initiatives. The school is just beginning a ten-year capital campaign, LEARNING elevated, which will result in developing new buildings, learning spaces, and structures—along with remodeling existing ones. Silent donor solicitation is underway right now; soon a fully public fundraising phase will kick off, followed by the start of long-awaited construction. The director of finance plays an integral role in this project, but by no means has to go it alone. An outstanding team of direct reports to the director is in place across three functional units: the business office, human resources, and extended programs. Reporting to the head of school, the director serves on the leadership team and works with the board on major financial forecasting and annual budget planning.
Mayfield is thrilled to announce that Linda Rabitoy joined the school in the summer of 2022 as the next director of finance.

Meet the new leader

Linda Rabitoy
Linda is a strategic, visionary leader who builds and maintains strong alliances while motivating teams and driving projects to successful completion.  For 12 years she worked at a large hospital in Arcadia, CA, where she supervised an accounting team of 10 and managed many aspecs of financial operations.  In 2012, she moved to Claremont Lincoln University, where she oversaw the devleopment and maintenance of the entire accounting system.  She holds a B.S. in Business Administration and MBA from Cal State Polytechnic.
Search Dates
Apr 2022

to

Jul 2022
Job Position
Director of Finance
Location
Pasadena, CA